Colorado Home Inspection-Electrical Safety
Colorado Home Inspection-Electrical Safety
Colorado Home Inspection-Electrical Safety
Having your home remodeled by a handyman is never a good idea. During our Colorado Home Inspections, we run into the contractor, that lacks experience, and installs electrical wiring incorrectly, almost daily. During the home inspection process we find undersized wires, that will not carry enough electrical current to be able to overload the overcurrent device in the main electrical panel. Loose wires in switches can also lead to fires or shock hazards. These items can be a fire hazard, and are not safe.
Electrical outlets are not to hard to wire, but during our Denver Colorado home inspections, we find this occurrence more than often. Hiring a licensed electrical contractor is key to passing your home inspection with flying colors. Electrical installed incorrectly can be a safety hazard.
Aluminum wiring can also lead to safety hazards if it is not repaired correctly.
Facts: Between approximately 1965 and 1973 aluminum wiring was sometimes substituted for copper branch circuit wiring in residential electrical systems. Neglected connections in outlets, switches and light fixtures containing aluminum wiring become increasingly dangerous as time passes. Poor connections cause wiring to overheat, creating a potential fire hazard.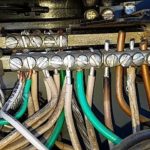 Here are the reasons aluminum wiring connections deteriorate: Thermal expansion and contraction: Even more than copper, aluminum expands and contracts with changes in temperature. Over time, this will cause connections to loosen. When wires are poorly connected they overheat, which creates a potential fire hazard. Vibration: Electrical current vibrates as it passes through wiring. This vibration is more extreme in aluminum than it is in copper and as time passes, it can cause connections to loosen. Again, when wires are poorly connected they overheat, which creates a potential fire hazard. Oxidation: Exposure to oxygen in the air causes deterioration to the outer surface of wire. This process is called oxidation. Aluminum wire is more easily oxidized than copper wire and as time passes, this process can cause problems with connections. Again, when wires are poorly connected they overheat, which creates a potential fire hazard. Galvanic corrosion: When two different kinds of metal are connected to each other a very low-voltage electrical current is created which causes corrosion. Corrosion causes poor connections. More information is available at this comprehensive website. http://www.inspect-ny.com/aluminum/aluminum.htm Options for Correction The wiring should be evaluated by a qualified electrician. This means an electrician experienced in evaluating and correcting aluminum wiring problems. Not all electrical contractors qualify. 1. At a minimum, all connections should be checked and an anti-oxidant paste applied. 2. Aluminum wire can be spliced to copper wire at the connections using approved wire nuts (called "pigtailing", not recommended by the US Consumer Product Safety Commission.) 3. Copalum crimps can be installed. Although this is the safest option, Copalum Crimps are expensive (typically around $50 per outlet, switch or light fixture). 4. AlumiConn Connector 5. Complete home re-wire. Costs will vary. Consult with a qualified electrical contractor.