Infrared Thermal Imaging Surveys in Denver, CO
We include thermal imaging in every one of our home inspections in the Denver area in order to ensure that there is absolutely nothing that we miss while inspecting your home. Because it can show potential or future problems that are invisible to the naked eye, thermal imaging is one of the indispensable tools we use for home inspections.
Performed with infrared cameras, it captures the light that exists just outside the visible spectrum. The thermal images that are produced allow me to quickly and accurately identify defects that may not always be apparent to the naked eye. Thermal images also show surface-heat variations. Abnormally hot electrical components and connections can be viewed during an electrical inspection. Areas of moisture that may lead to leaks and structural damage can be located based on apparent temperature differences. Heat loss and air leakage in the building envelope, and even areas of insufficient insulation can be pinpointed with great precision. A thermal imaging inspection is one of the most important types of inspections I can perform for you and your home.
Actual Thermal Images from Various Home Inspections in Arvada, Aurora and Other Cities in the Denver Metro Area: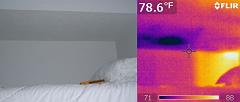 Leak In Ceiling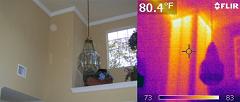 No Insulation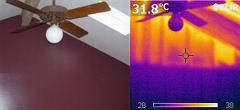 Lack Of Insulation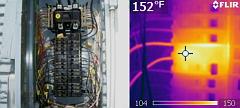 Hot Breaker