Why Is There Frost In My Attic? – Part 2
Why Is There Frost In My Attic? – Part 2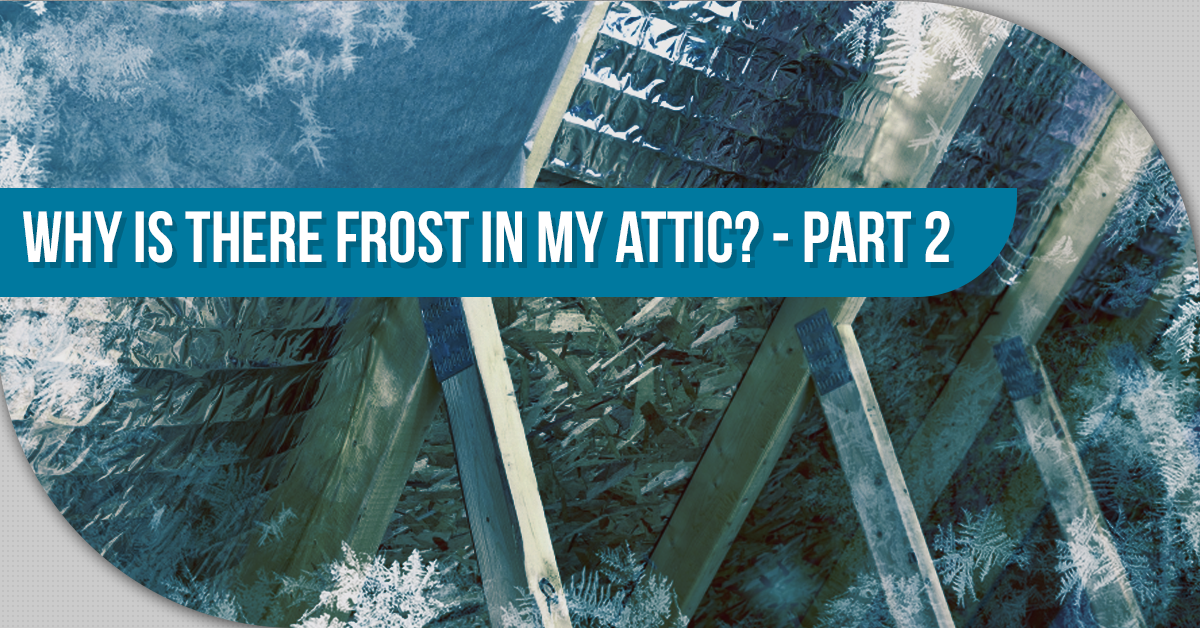 Hello, and welcome to part two of our blog series about attic frost. In part one, we talked about what causes attic frost and what effects it can have on your home. In part two, we're going to talk a little bit more about the air leak inspection process for your attic. Since attic frost is caused by warm humid air that rises into your attic during cold days, it's crucial that even the smallest holes or cracks are patched. If you suspect that attic frost has caused water damage in your home or has resulted in mold growth, contact a home inspection expert at Safe Invest Home Inspections immediately.
Check your attic
The first step is to enter your attic and check for any air leaks. There are two ways that you can test for these leaks: blower doors or fog machines. If you're having trouble locating a leak, you may want to try using a fog machine, however, a blower door will usually do the trick. Not only will this device help you locate leaks in your attic, but it will tell you the general airtightness of your home which is useful information for saving money on energy bills and controlling humidity. If you'd like more information on how to use both blower doors or fog machines to locate leaks, we'll talk more about them in our next blog. If you have neither of these devices, you'll need to locate the leaks just by looking. Although this is by no means the most effective way, you should be able to find the majority of the leaks this way.
Once you're in the attic, it shouldn't be too difficult to locate problematic areas. If your floor has fiberglass batt insulation, look for any stains or dirt accumulation. Typically when batts get dirty, it's due to an air leak like a crack or hole. When air rushes over the batts, it acts like an air filter collecting dirt and dust. A sunken batt could be a sign that there is a dropped ceiling under your insulation and the lack of an air barrier. Check around exhaust fans, ducts, or plumbing vent pipes. These can also be common leak areas, especially if they're old and worn out. Once you've located a leak, it's time to patch them.
Patching a hole
Holes that form above utility chases, dropped ceilings, and soffits can all be patched with gypsum drywall, oriented strand board (OSB), or plywood. However, a much easier way to patch these holes is with foil-faced polyisocyanurate which is easier to cut and place. Whichever material you decide to use, cut it to the appropriate size for the hole and secure it in place with nails or screws. After that, you can use a canned spray foam, acoustical sealant, or caulk to seal the area around it.  
If you're dealing with a gap around a brick chimney, you'll need to use a different material than for holes about soffits because they can get hot. You should be sure to cover these with sheet metal and sealed with high-temperature silicone caulk.
For a metal chimney, you'll want to overlap two pieces of sheet metal. However, be aware that most building codes require 2-inches of space between framing lumber and the metal chimney, so you shouldn't fill this area with insulation.  
Smaller cracks and holes
Other potential leak areas you should look for in your attic include cracks near recessed can lights; around ceiling-mounted duct boots, plumbing vent pipes, ceiling electrical boxes, between partition drywall, and more. You should also check kneewalls, ventilation baffles, insulation dams, and duct leaks. Once this is all said and done, you can seal up your attic access hatch. The problem with these is that they usually aren't properly insulated and don't usually have weatherstripping on them.
Depending on whether you have an attic hatch or pull-down stairs will change how you insulated it. You should glue rigid foam on the hatch, then install weatherstripping where the hatch rests. You should ensure that once the hatch is closed, it is pulled tightly against the weatherstripping.
If you have pull-down stairs, however, the process may be slightly more difficult. There are several products out there for sealing pull-down stairs including Battic Door attic stair covers, Attic Tent, Draft Cap, or Energy Guardian. Which one you use will depend on your home and what your needs are for energy efficiency.
Contact Safe investment Home Inspections
Are you concerned that attic frost has done irreversible damage to your home in Denver or the surrounding area? Melted frost can lead to your roof sheathing deteriorating, mold, ruined insulation, water stains, and warped wood that ruins the structural integrity of your home. Contact Safe Investment Home Inspections today to learn more about our home inspection process.